MedOne Education
MedOne Education is a medical e-learning platform covering every course in the medical school curriculum. A license to MedOne Education can help prepare medical students at your institution starting day one for all of the challenges ahead of them and throughout their career.
MedOne Education is an exceptional resource for learning, review and research in medicine and the life sciences. It not only features review titles, it also includes illustrated full-color medical textbooks covering anatomy, basic sciences, clinical sciences, dentistry, osteopathic/physical therapy, radiology and USMLE® test prep in addition to downloadable images and video content.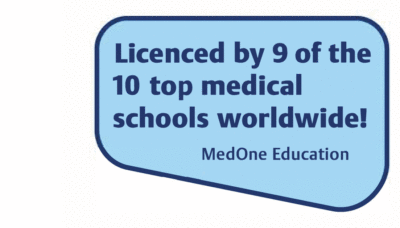 MedOne Education content:
E-Books – Access to 127 E-Books.
Media – 62,600 images with legends and 807 videos.
Q&A – 1,083 multiple choice questions and answers mirror exam topics students frequently encounter in curriculum from the title Histology: An Essential Textbook, by D.J. Lowrie.
Premium content for Anatomy ›, Dissection › and Nursing › is also available for an additional cost.
Find out more about the MedOne Education platform and it's benefits for your institution in our MedOne Education Introduction Video:
By: Virginia Desouky, MLS
Scholarly Engagement Librarian
Health Sciences Library
West Virginia University
In today's online education world, the need for digital access to learning content continues to grow. Digital textbook collections play an important role as keys to student academic success, whether they study on campus or remotely. One such collection, from award-winning international and science publisher Thieme Medical Publishers, is MedOne Education… Read More ›